BUSINESS MODELS OF COLLABORATIVE ECONOMY IN BUILDING SOCIAL CAPITAL
Raktažodžiai:
trust, consumer behaviour, collaboration, employment trends, entrepreneurship
Santrauka
The article looks into the essence of the collaborative economy, provides an overview of business examples within this sector, and discusses its contribution to social capital aligned with the UN's SDGs. Although forms of sharing/ collaborative economy existed before, they gained momentum with technological advancement and proliferation. Now, it has been developing in different contexts, and thanks to broad access to innovative solutions it has become more egalitarian. New communication channels affected the way people interact, but most importantly empowered them and provided them with tools to enter previously unavailable areas as active co-creators of market offerings. Consumers and markets have been changing so there is a clear response in changing consumer behavior. The trends are also determined by shifts in employment relations, their alternative forms, and loosened ties with employers that all result in looking for different solutions to generate livable income. As a result, cultural shifts follow with individuals willing to share things, knowledge, information, experience, etc. Such models, however, require trust which is the most important element or even a synonym of social capital. While the previous business models developed within the framework of regulation, the new forms take the path "from bottom- up" where individuals initiate ideas and cooperate with peers without regulatory protection or intermediary. The potential of the sector development is huge with differences across regions where measures of trust are varied.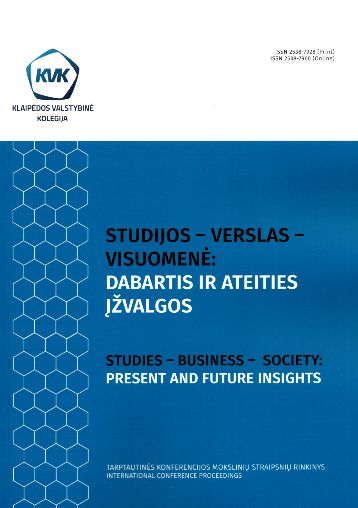 Atsisiuntimai
Kaip Cituoti
Wójcik, E. (2022). BUSINESS MODELS OF COLLABORATIVE ECONOMY IN BUILDING SOCIAL CAPITAL. STUDIJOS – VERSLAS – VISUOMENĖ: DABARTIS IR ATEITIES ĮŽVALGOS, 1(VII), 280–293. https://doi.org/10.52320/svv.v1iVII.256
Licencija
Copyright (c) 2022 Ewa Wójcik
Šis darbas yra licencijuotas pagal Creative Commons Attribution 4.0 Tarptautinė licencija.

Atskiri straipsniai yra skelbiami "Open Access" pagal "Creative Commons" licenciją CC-BY 4.0, leidžiančią neribotai naudoti, platinti ir atgaminti betkokioje laikmenoje, su sąlyga, kad nurodytas originalus autorius ir šaltinis. Autoriai išlaiko autorių teises į savo straipsnius, tačiau suteikia Klaipėdos valstybinei kolegijai pirmojo leidinio teisę.